Early Childhood Education and Care
Greenbriar operates two early childhood education and care centers, located at Windy's Preschool at 429 Tattnall Street and at W.W. law Learning Center at 909 East Bolton Street. These centers offer accredited and affordable high quality care and education for children ages six months to five years. The Centers use The Creative Curriculum which is a research based curriculum that promotes exploration and discovery as a way of learning through responsive daily routine and meaningful learning experiences. At Greenbriar, we know that 90% of a child's brain development occurs by the age of five. A quality early childhood education is essential and must be available to all children, regardless of family income.
The Centers are licensed by the State of Georgia, Bright From the Start: Georgia Department of Early Care and Learning. Funded by Chatham County Government, United Way, City of Savannah, GA Pre-K.
Windy's Preschool accepts ages 1yr – 3yr and Pre-K
W.W. Law Learning Center accepts ages 6mth to 5yr
Questions? Call us at (912) 234-3431 (admin.), Windy's Preschool (912) 234-0575, W.W. Law Learning Center (912) 233-5230.
Contact Us For More Information
Family Preservation
The Family Preservation program is designed to provide FREE support to those in need…for parents or caregivers under stress, or for family members who may be facing a difficult life challenge. Greenbriar is here to help. We provide free individual, family and group counseling, behavioral management, parenting assessments, in home and center based parenting education and life skills training. We also are able to provide our clients with information on other community resources which may help to reduce economic or emotional stresses. Please contact Catherine Brown-Gray at (912) 234-3431 for more information or if you need help.
Contact Us For More Information
Shelter Services
Greenbriar offers a shelter for abused, abandoned, neglected or runaway and homeless youth, ages 12 to 17. Our shelter, one of only two in the entire Coastal Empire, is open 365 days a year. Our program provides food, shelter, clothing, academic and emotional support, and a safe and nurturing environment. To find help, contact the Runaway/Homeless Hotline 1-800-292-4014. For more information on our shelter, please contact (912) 234.3431.
Contact Us For More Information
Project Safe Place
Our Project Safe Place focuses on the prevention of child abuse and neglect by partnering with local businesses to provide safe havens for those in need. Greenbriar has established over 100 safe place sites in Savannah, at local convenience stores, recreational facilities and other facilities, where children can seek help when they see the "Safe Place" sign. For more information on Project Safe Place, please call (912) 234-3431.
If you need help, call 1-800-292-4014 or text the word "SAFE" and your current location to 4HELP (44357).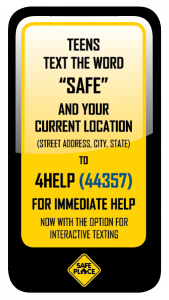 Contact Us For More Information